Don't Ever Call Him "Bugsy"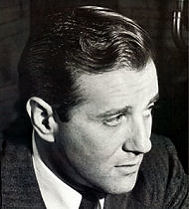 If by chance you are invited to the palatial mansion located at 810 Linden Drive in Beverley Hills, be advised that the mansion is haunted by the terrified ghost of Benjamin "Bugsy" Siegel. There is an atmosphere of terror in the front room where Bugsy was lounging, just before a hail of bullets slammed into him. He tried valiantly to escape the gunfire, but the bullets cut him down.
As connected as Bugsy was and as handsome as he was, he was sure to have made a lot of enemies. Logically, it would be reasonable to assume that Virginia set him up. If so, why? What would have been her motive? Money? Threats are also good motivators! Lucky Luciano and Meyer Lansky might have wanted him dead because technically, the Casino they opened in Vegas flopped on opening night and may have looked at that as a sign of ill omen, thus giving them a reasonable excuse to bump him off. Another suspect I would name would be Bugsy's immediate successor, Mickey Cohen. He took over operations upon Bugsy's death and he was known for ruling the Los Angeles underworld with an iron fist. Some say he was even more violent that Bugsy. He and a couple of his "boys" dragged a man down to the basement of a place in Hollywood called Ciro's, which at the time was major GLAM and THE place to be seen. Mickey and his boys came back up, but their victim didn't. It's rumored that the victim, after being shot in the head a couple of times, got a concrete blanket to keep him snug. The place is now called The Comedy Store. Is it haunted? Yep!
I don't think that Bugsy's death will ever be solved. I think the reason that Bugsy's murder has gone unsolved for so long is because persons unknown went to a lot of trouble to make sure that it wouldn't be solved. I think that this was accomplished with either an exchange of money or an exchange of lead!
$5.00 will get you $10.00 it was a combination of both. I don't even think Bugsy knows, but his ghost, which is said to haunt not only the former mansion of Virginia Hill but also a certain casino or two in Vegas, isn't talking. At the infamous Havana Conferrence, the hit on Bugsy was put to a vote. Half voted that he live. Half voted that he die. Bugsy's life hung on the vote of one man:
Meyer Lansky, his best friend.
Lansky's vote: Death.
His grave plaque reads: "In Loving Memory From The Family".
Yeah, right.